ALVE is a company boasting a 40-year-experience and hence a very high know-how, in a position to offer a full-circle service in the textile industry and more specifically in the dyeing and finishing of Yarns, Fabrics, Ready-Made Garments, Socks and Stockings, Complete lines for mercerized yarn, Complete industrial factories, on a turnkey basis.Moreover, we supply textile technology by giving advice on how to develop new projects or work out textile and dyeing problems.
OUR EXPERTISE has built up over the years, while supplying any kinds of textile machinery and serving customers all over the world. We served customers and met their ever-changing needs, by dealing with company problems on a daily basis, which enhanced our engineers' knowledge to an unbeatable extent.
OUR POTENTIAL lies in the staff members our company is made up of, from the engineering department where they care for research and development, to the electronic department where they develop electric and electronic plants and the production department where they develop the whole range of our products, and finally the department where they run tests before the delivery. Our company boasts such a wide expertise, just because we go through with any technical and development stage on an in-house basis, with our own equipment and our own staff.
DYEING & FINISHING MACHINERY FOR YARN IN PACKAGE FORM
DYEING & FINISHING MACHINERY FOR YARN IN HANK FORM, SPRAY DYEING MACHINERY
DYEING & FINISHING MACHINERY FOR FABRICS
PLANT FOR COTTON YARN IN HANK FORM AND FABRICS
DYEING & FINISHING AND OTHER TREATMENT MACHINERY FOR READY-MADE GARMENTS, KNITWEAR, JEANS
YARN SINGEING MACHINERY, LINE PREPARATION & PROCESSING MACHINERY SOFT WINDING & REWINDING MACHINERY
ACCESSORIES FOR DYEING AND FINISHING
COLOR KITCHEN
DYEING AND FINISHING MACHINERY SPARE PARTS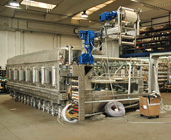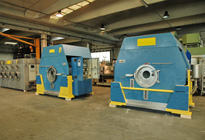 DTG 2023

ALVE attends at DTG 2023, DHAKA
15 – 18 February, 2023